We are passionate
about our work
What if you joined a company
where anything is possible?
We are leaders
in our sector
Our mission is to develop and participate in creating the best software possible to simplify our clients' everyday lives. We achieve this through the motivation, commitment and problem-solving abilities of our team. Our involvement and experience provide the best quality in our developments (agile methodologies, unit testing, TDD, BDD).
Our technological
curiosity is a calling
With ongoing training, our professionals research and develop the most innovative solutions. We use the technology that best adapts to each project, from C, C++ and Java for low-level development, to Java 8/11 or NodeJS for data-centric, microservice or stateless architecture.
Choose how you want to work
We provide our workers with competitive equipment, adapted to each project's needs
We give you the freedom to work with the platform you are most comfortable with (Linux, Windows or Mac).
We provide peripherals that make your job more comfortable: an external screen that measures at least 27", a trackpad, and more.
We adapt to your needs
The most important part of Serquo is its people, which is why we want to make your life easier
Flexible compensation plan that includes restaurant vouchers, nursery vouchers and medical insurance.
Flexible start and end times, and family/work balance measures
Remote work once per week
Shortened workday on Fridays and in summer
Give and receive training
We think being up-to-date is very important. This is why we want you to keep learning and to have a space where you can share everything you know.
You will have at your disposal an economic fund destined exclusively to your training that you can invest in the technical areas, soft skills, languages, events, seminars, meetups or hackathons that interest you the most.
We hold technical talks given by colleagues.
We subsidize relevant events to drive our employees' professional development.
Mentoring
We have the best working environment
We work with a very horizontal hierarchy, where everyone has a voice.
We develop onboarding plans to make it easier for employees to join us.
Team building activities
Community amongst all employees
We create the best working environment possible.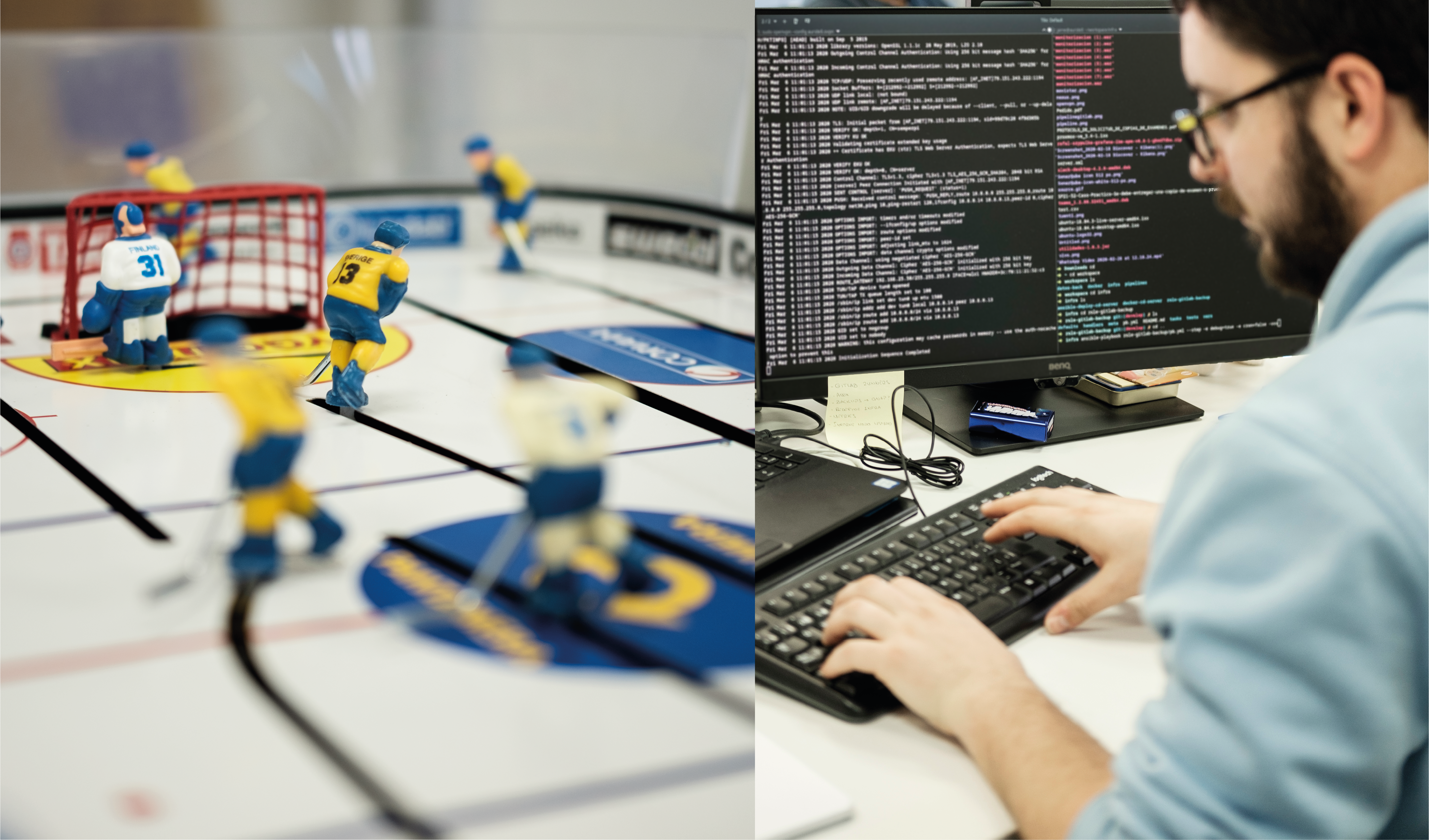 Over the past two years,
the number of women on our team
has grown by 27%.
Over the past three years,
our team has grown by 21%.
86% of our employees' contracts are permanent.
Meet
the team
Jason
Manuel
Sergio
Carlos
Irene
Jose Miguel
Rafa
Olga
David
Tomás
Javier
Daniel
Jose Román
Josevi
Ignacio
Ricardo
Adrián
Alberto
Máximo
Andrea
Lucía
Gema
Alejandro
Victoria
Antonio
Ana María
Gabriel
Daniel
Emmanuel
Carlos
Alfonso
Ana
David
Azahara
Eduardo
Efraim
Jennifer
Javier
Matías
Jorge
Sergio
Rubén
Guillermo
Jose Luis
Xavier
Marcos
Araceli
Galia
María Ángeles
Pontus
Jesús
Carlos
Adrián
Jose Manuel
Neila
Daniel
Antonio
Jose Antonio
Román
Sergio
Raquel
Santi
David
Rodrigo
Concepción
Sonia
Jesús
Raúl
Manuel
Joaquín
Victor
Óscar
Jaime
Cristina
Angélica
Luis Miguel
Luis Miguel
Carlos
Luis
Santiago
Toni
Álvaro
Juan
Miguel
Natalia
Álvaro
David
Ana
Antonio
Francisco
Adrián
Carlos
Ione
Jorge
Patricia
Ángel
"What I most like about working at Serquo is that there is a wonderful working environment, and collaborative learning is encouraged."

Angélica. Developer.
"I love the trust they place in each one of us to move the projects forward. What's more, they don't look at just one person when something goes wrong. Rather, as a team, we try to find a solution and use the experience to learn a lesson."
Álvaro. Developer.
"I love that Serquo is part of my professional and personal growth."
Edu. Developer.
"What I like most about Serquo is how they invest in human capital, and the energy they pour both into the projects and into the working environment."

Manuel. Developer.
"I very much appreciate the great collaboration and interaction at a technical level between all the departments."

Alberto. Developer.
What are you
passionate about?
A strong international presence and excellent work environment make Serquo the best company for professional development. We are leaders in our sector, and we want the best talent on our team so we can keep meeting the challenges our clients give us, anywhere in the world.
Desarrollador Front-end Senior:
* Javascript: es6 en adelante
* Typescript
* Angular: versión 9 en adelante (se desarrollará con la versión 13)
* Angular DevTools
* RxJS : Observables
* Redux: De preferencia NGXS, pero se valorarán conocimientos en NGRX/Akita
* CSS3
* SASS (.scss)
* Tailiwind (de preferencia), pero se valorarán conocimientos en Bootstrap
* HTML5
* Web components
* Jasmine
* Jest
* Karma
* YAML
* JSON
* Invision/sketch
Metodología de trabajo Agile
Se valorará tener conocimientos en:
* Angular schematics
* Angular elements
* Angular universal
* PWA & TWA
* Webpack 5 ( module federation )
* ExpressJS
* CI : jenkins / gitlab-ci / github actions
Tareas a realizar.
*Jefatura de Proyectos
*Gestor de Inversión (PPM, Jira, etc).
*Labores de Product Management
*Elaboración de Requisitos de negocio y de producto.
*Soporte a negocio.
*Soporte a incidencias.
*Ejecución del plan de producto diseñado.
Perfil.
*Aparte de los perfiles académicos habituales
*Alto nivel de Inglés.
*Preferiblemente JP Junior o en su defecto AF con años de experiencia en este puesto y que hayan comenzado a realizar en algún momento labores de JP.
*Los requisitos de negocio que elaboramos en el equipo son extendidos y con cierto grado de detalle, por lo que nos interesan perfiles que no lleven desconectados de ciertos detalles técnicos mucho tiempo.
*Las tareas de soporte a negocio requieren, además de conocer el producto (evidentemente para esto recibirán la formación correspondiente) de experiencia en el soporte a usuarios, entender la necesidad y el problema del usuario e intentar responder con agilidad.
*Necesitamos gente que persiga los temas, con iniciativa y responsabilidad. Gente que una vez recibida la tarea sea capaz de desarrollarla de forma autónoma.
*En el contacto diario con negocio debe ser capaz de detectar necesidades para incorporarlas al backlog del producto con la mayor celeridad posible y que nos podamos anticipar a negocio en la resolución de sus necesidades.
*Gente capaz de realizar el diseño de la solución desde el alto nivel, pero siendo capaz de aterrizarlo a la realidad del producto y relacionando los diversos aspectos a tener en cuenta.
*Sería deseable experiencia en el mundo del Marketing promocional (Cuponing, ofertas, promociones, etc)
*El punto anterior sería deseable complementarlo con experiencia en el sector de distribución, bien desde el punto de vista de un retailer o de los proveedores.
*Personas con experiencia previa en ECI también tiene su valor añadido. Gente con conocimientos de ciertos conceptos ECI (Codificación, precios, mundo web, etc).
El trabajo a realizar es de campo, con mucho detalle, no realizamos mega-proyectos, trabajamos en base a iniciativas pequeñas, cortas temporalmente con equipos reducidos, pero que aporten valor a negocio desde los primeros momentos, por eso no se trata de incorporar personas con mega-titulaciones en direcciones de proyectos complejos donde se requieren grandes estructuras jerarquicas y organizativas, aquí la relación es directa entre el JP o PO y los equipos técnicos de detalle.
Por lo que respecta al mundo del Agile, nos interesa más personas con la filosofía Agile que personas con certificaciones y titulaciones en todas las ceremonias y roles de Agile.
Puedes escribirnos al siguiente email: talent@serquo.com
Conocimientos técnicos:
OBLIGATORIO:
NodeJS y React.
Fuerte experiencia con React, React Native y NodeJS y PostgreSQL
DESEABLE:
MongoDB, Elasticsearch, Redis
Integraciones con terceros via servicios REST o SOAP.
Amazon Web Services (AWS)
Realización de tests unitarios, de integración , end to end etc.
Obligatorio: disponibilidad para hacer guardias. Remuneradas aparte.
Importante que haya testeado
Teletrabajo 100%.
Puedes escribirnos al siguiente email: talent@serquo.com
Programador Senior Backend
Backend
Java
Microservicios
Senior
Spring
Buscamos un programador Senior Backend con experiencia en Java,  Microservicios, Spring Boot, Test Unitarios y Metodologías Agile para el sector bancario.
Puedes escribirnos al siguiente email: talent@serquo.com
Programador Backend Senior en Python
-Conocimientos en framework como Flash o Django
-Experiencia con Test Unitarios
-Experiencia con Base de Datos MongoDB
-Experiencias con metodologías Agile
-Apasionado de las tecnologías
-Persona proactiva y resolutiva
-Valorable experiencia en Machine Learning
Puedes escribirnos al siguiente email: talent@serquo.com
AI engineer
deep learning
machine learning
Python
We are looking for an AI engineer to join into an international company.
Our client is creating a passionate and engaging culture that combines cutting-edge research and product-led engineering to provide a supportive balance of structure and flexibility. They are looking for colleagues passionate about bringing cutting-edge AI to industrial problems.
The Job role Includes
Implementing and parallelizing deep learning methods for predicting geophysical dynamics, with a current focus heavily towards particular oil reservoir dynamics.
Interfacing with the software engineering team who are continuously enhancing our PROTEUS platform for our customers in the energy sector.
Leading research in one of the most promising startup in USA
Qualifications
PhD or equivalent practical experience
High level of coding skills in python
Preferred programming languages: Pytorch. A proven track of previous experience in AI development.
Excellent communication skills in English
Knowledge of AI such as deep learning, deep reinforcement learning
Experience in parallel programming and high-performance computing
Experience with debugging GPU performance issues.
A real passion for AI
Experiences solving differential equations and physical problems
Preferred Qualifications
PhD in machine learning, neuroscience, or computer science
Knowledge in physical problems such as fluid dynamics or reservoir simulation
Published papers within deep learning, or machine learning generally
Published papers within deep learning in applied areas such as the energy industry
Experience with programming in C/C++.
Experience with coding GPUs (CUDA)
talent@serquo.com
Besides programming, also...