We are passionate
about our work
What if you joined a company
where anything is possible?
We are leaders
in our sector
Our mission is to develop and participate in creating the best software possible to simplify our clients' everyday lives. We achieve this through the motivation, commitment and problem-solving abilities of our team. Our involvement and experience provide the best quality in our developments (agile methodologies, unit testing, TDD, BDD).
Our technological
curiosity is a calling
With ongoing training, our professionals research and develop the most innovative solutions. We use the technology that best adapts to each project, from C, C++ and Java for low-level development, to Java 8/11 or NodeJS for data-centric, microservice or stateless architecture.
Choose how you want to work
We provide our workers with competitive equipment, adapted to each project's needs
We give you the freedom to work with the platform you are most comfortable with (Linux, Windows or Mac).
We provide peripherals that make your job more comfortable: an external screen that measures at least 27", a trackpad, and more.
We adapt to your needs
The most important part of Serquo is its people, which is why we want to make your life easier
Flexible compensation plan that includes restaurant vouchers, nursery vouchers and medical insurance.
Flexible start and end times, and family/work balance measures
Remote work once per week
Shortened workday on Fridays and in summer
Give and receive training
We think being up-to-date is very important. This is why we want you to keep learning and to have a space where you can share everything you know.
You will have at your disposal an economic fund destined exclusively to your training that you can invest in the technical areas, soft skills, languages, events, seminars, meetups or hackathons that interest you the most.
We hold technical talks given by colleagues.
We subsidize relevant events to drive our employees' professional development.
Mentoring
We have the best working environment
We work with a very horizontal hierarchy, where everyone has a voice.
We develop onboarding plans to make it easier for employees to join us.
Team building activities
Community amongst all employees
We create the best working environment possible.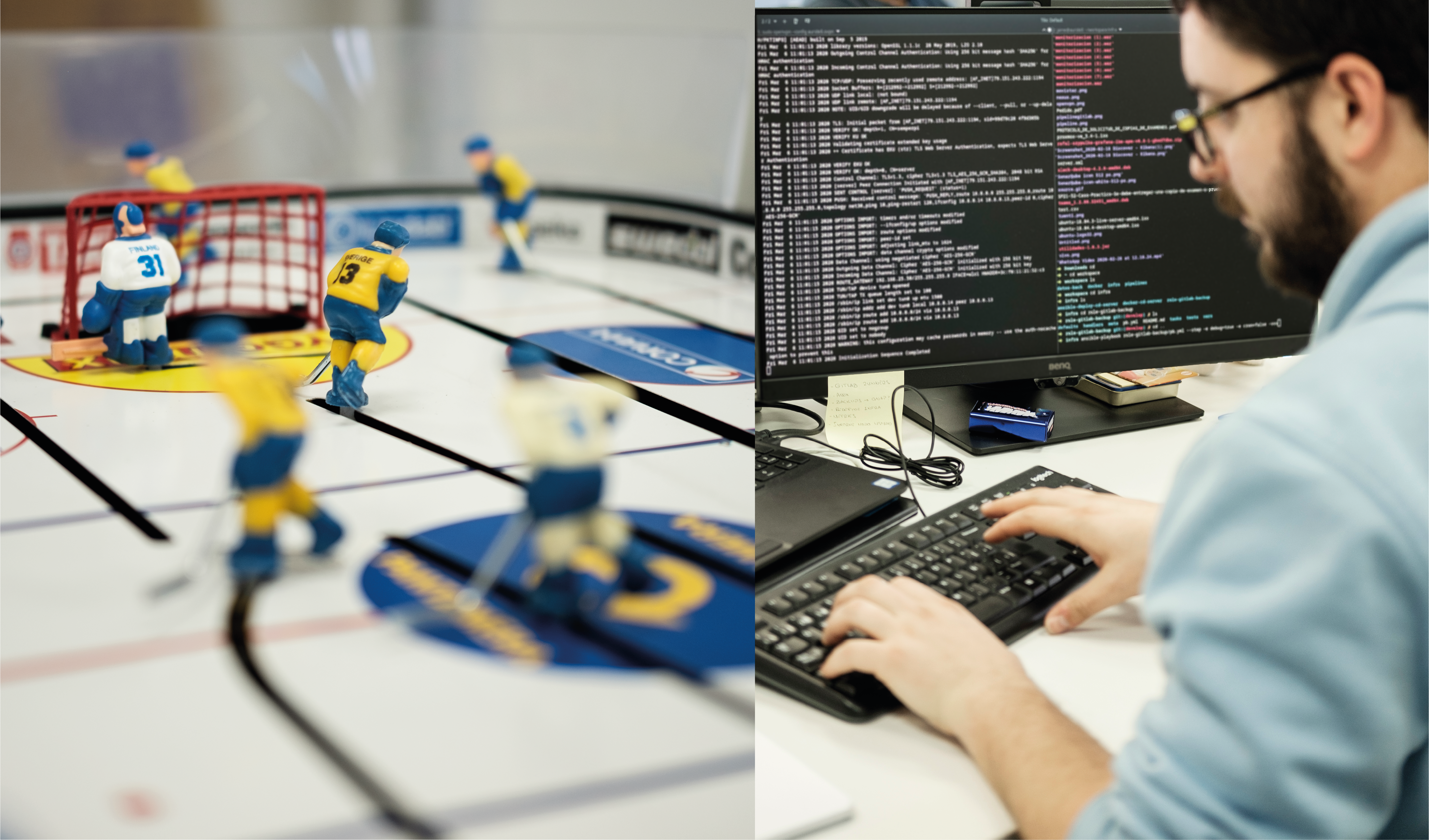 Over the past two years,
the number of women on our team
has grown by 27%.
Over the past three years,
our team has grown by 21%.
86% of our employees' contracts are permanent.
Meet
the team
Javier
Tacio
José Emilio
María Teresa
Juan
David
David
Jhon
Rafael
Kamil
Ángel
Xavi
Victor
Javier
Vicente
José
Javier
Rubén
Adrià
Héctor
Carmen
Vanessa
Antonio
Rebeca
Irene
Rafa
Olga
David
Tomás
Javier
Daniel
Jose Román
Alberto
Andrea
Lucía
Gema
Alejandro
Victoria
Ana María
Gabriel
Daniel
Carlos
Ana
Azahara
Eduardo
Efraim
Jennifer
Javier
Matías
Jorge
Sergio
Rubén
Guillermo
Galia
Marcos
Xavier
Carlos
Araceli
Jose Luis
María Ángeles
Santi
Jesús
Carlos
Pontus
Jose Manuel
Neila
Daniel
Antonio
Jose Antonio
Román
Sergio
Raquel
Rodrigo
Sonia
Jesús
Manuel
Joaquín
Victor
Óscar
Jaime
Cristina
Angélica
Luis Miguel
Luis Miguel
Luis
Santiago
Toni
Álvaro
Natalia
Álvaro
David
Ana
Francisco
Adrián
Concepción
Carlos
Ione
Jorge
Patricia
Ángel
"What I most like about working at Serquo is that there is a wonderful working environment, and collaborative learning is encouraged."

Angélica. Developer.
"I love the trust they place in each one of us to move the projects forward. What's more, they don't look at just one person when something goes wrong. Rather, as a team, we try to find a solution and use the experience to learn a lesson."
Álvaro. Developer.
"I love that Serquo is part of my professional and personal growth."
Edu. Developer.
"What I like most about Serquo is how they invest in human capital, and the energy they pour both into the projects and into the working environment."

Manuel. Developer.
"I very much appreciate the great collaboration and interaction at a technical level between all the departments."

Alberto. Developer.
What are you
passionate about?
A strong international presence and excellent work environment make Serquo the best company for professional development. We are leaders in our sector, and we want the best talent on our team so we can keep meeting the challenges our clients give us, anywhere in the world.
Besides programming, also...