We are passionate
about our work
What if you joined a company
where anything is possible?
We are leaders
in our sector
Our mission is to develop and participate in creating the best software possible to simplify our clients' everyday lives. We achieve this through the motivation, commitment and problem-solving abilities of our team. Our involvement and experience provide the best quality in our developments (agile methodologies, unit testing, TDD, BDD).
Our technological
curiosity is a calling
With ongoing training, our professionals research and develop the most innovative solutions. We use the technology that best adapts to each project, from C, C++ and Java for low-level development, to Java 8/11 or NodeJS for data-centric, microservice or stateless architecture.
Choose how you want to work
We provide our workers with competitive equipment, adapted to each project's needs
We give you the freedom to work with the platform you are most comfortable with (Linux, Windows or Mac).
We provide peripherals that make your job more comfortable: an external screen that measures at least 27", a trackpad, and more.
We adapt to your needs
The most important part of Serquo is its people, which is why we want to make your life easier
Flexible compensation plan that includes restaurant vouchers, nursery vouchers and medical insurance.
Flexible start and end times, and family/work balance measures
Remote work once per week
Shortened workday on Fridays and in summer
Give and receive training
We think being up-to-date is very important. This is why we want you to keep learning and to have a space where you can share everything you know.
We provide subsidized courses suggested by the employee (technology, soft skills, languages).
We hold technical talks given by colleagues.
We subsidize relevant events to drive our employees' professional development.
Mentoring
We have the best working environment
We work with a very horizontal hierarchy, where everyone has a voice.
We develop onboarding plans to make it easier for employees to join us.
Team building activities
Community amongst all employees
We create the best working environment possible.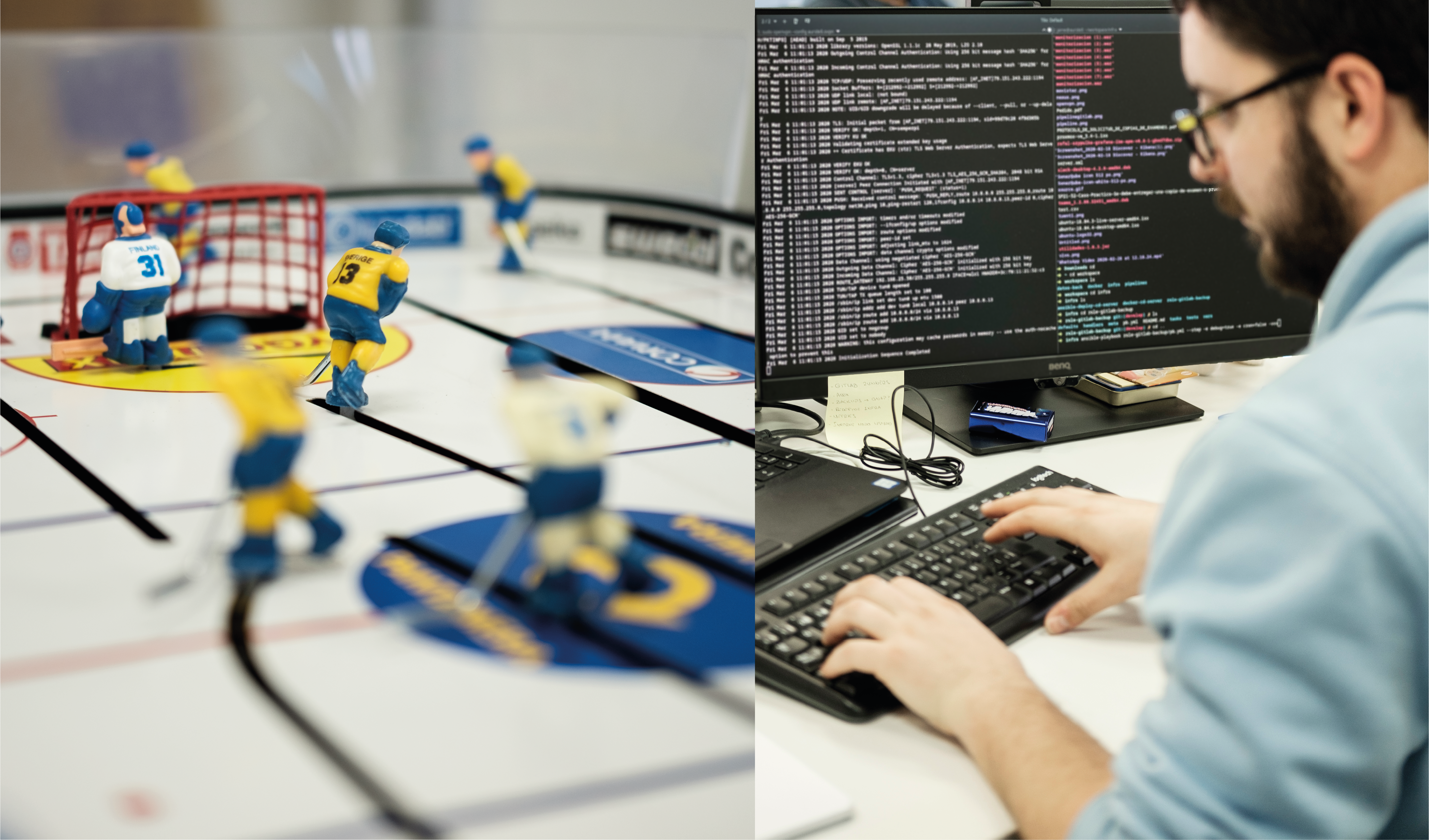 Over the past two years,
the number of women on our team
has grown by 27%.
Over the past three years,
our team has grown by 21%.
86% of our employees' contracts are permanent.
Meet
the team
Fernando
Alejandro
Ana
Luis Miguel
Andra
James
David
Alfonso
Azahara
Eduardo
Efraim
Carlos
Jennifer
Fernando
Guillermo
Javier
David
Matías
Raúl
Jorge
Sergio
Rubén
Guillermo
Abraham
Jose Luis
Xavier
Ángel
Marcos
Araceli
Galia
Jaime
María Ángeles
Pontus
Jesús
Jesús
Carlos
Adrián
Jose Manuel
Neila
Marco
Daniel
Antonio
Alberto
Jose Antonio
Román
Sergio
Pablo
Raquel
Santi
David
Rodrigo
Concepción
Sonia
Jesús
Raúl
Manuel
Joaquín
Victor
Óscar
Jaime
Cristina
Nuria
Angélica
Luis Miguel
Luis Miguel
Carlos
Alberto
Luis
Santiago
Toni
Álvaro
Juan
Miguel
Natalia
Álvaro
David
Omar
Ana
Antonio
Javier
Francisco
Alberto
Adrián
Carlos
Jorge
Diego
Patricia
Lidia
Ione
Miguel
Ángel
"What I most like about working at Serquo is that there is a wonderful working environment, and collaborative learning is encouraged."

Angélica. Desarrolladora.
"I love the trust they place in each one of us to move the projects forward. What's more, they don't look at just one person when something goes wrong. Rather, as a team, we try to find a solution and use the experience to learn a lesson."
Álvaro. Desarrollador.
"I love that Serquo is part of my professional and personal growth."
Edu. Desarrollador.
"What I like most about Serquo is how they invest in human capital, and the energy they pour both into the projects and into the working environment."

Manuel. Desarrollador.
"I very much appreciate the great collaboration and interaction at a technical level between all the departments."

Alberto. Desarrollador.
What are you
passionate about?
A strong international presence and excellent work environment make Serquo the best company for professional development. We are leaders in our sector, and we want the best talent on our team so we can keep meeting the challenges our clients give us, anywhere in the world.
AI engineer
deep learning
machine learning
Python
We are looking for an AI engineer to join into an international company.
Our client is creating a passionate and engaging culture that combines cutting-edge research and product-led engineering to provide a supportive balance of structure and flexibility. They are looking for colleagues passionate about bringing cutting-edge AI to industrial problems.
The Job role Includes
Implementing and parallelizing deep learning methods for predicting geophysical dynamics, with a current focus heavily towards particular oil reservoir dynamics.
Interfacing with the software engineering team who are continuously enhancing our PROTEUS platform for our customers in the energy sector.
Leading research in one of the most promising startup in USA
Qualifications
PhD or equivalent practical experience
High level of coding skills in python
Preferred programming languages: Pytorch. A proven track of previous experience in AI development.
Excellent communication skills in English
Knowledge of AI such as deep learning, deep reinforcement learning
Experience in parallel programming and high-performance computing
Experience with debugging GPU performance issues.
A real passion for AI
Experiences solving differential equations and physical problems
Preferred Qualifications
PhD in machine learning, neuroscience, or computer science
Knowledge in physical problems such as fluid dynamics or reservoir simulation
Published papers within deep learning, or machine learning generally
Published papers within deep learning in applied areas such as the energy industry
Experience with programming in C/C++.
Experience with coding GPUs (CUDA)
talent@serquo.com
Buscamos para uno de nuestros principales clientes del sector Banca y concretamente para su Área de grandes proyectos de Movilidad:
Requisitos:
Grado en Ingeniería Informática.
Mínimo 3 años de experiencia como Arquitecto de Javascript.
Stack tecnológico: JavaScript, GIT.
Experiencia metodología Agile.
Funciones:
Análisis, diseño e implementación de los componentes de la Arquitectura.
Investigación de soluciones y herramientas de Arquitectura de desarrollo, ejecución y despliegue.
Propuesta de soluciones a necesidades técnicas complejas.
Soporte y tutela técnica-tecnológica a los equipos de desarrollo (Programadores y Analistas)
Acompañamiento para el inicio de nuevos proyectos.
Puedes escribirnos al siguiente email: talent@serquo.com
Buscamos para uno de nuestros principales clientes del sector Banca y concretamente para su Área de grandes proyectos de Movilidad:
Deberá aportar al menos una experiencia de 5 años en desarrollo de aplicaciones para móviles para iOS con Swift.
Conocimientos de los patrones de diseño nativos iOS para el desarrollo de aplicaciones. Y de herramientas como Xcode, AppCode y Cocoapods.
Conocimientos de arquitectura software y Clean Code.
Seguimiento de los principios SOLID.
Experiencia en proyectos siguiendo metodologías ágiles.
Acostumbrado al lanzamiento de aplicaciones en Apple Store.
Capacidad de organización y trabajo en equipo.
Puedes escribirnos al siguiente email: talent@serquo.com
Descripción de puesto:
Desarrollará funciones de Technical Lead de proyecto para garantizar que el proyecto se desarrolla siguiendo los patrones y buenas prácticas establecidos por arquitectura, desarrollando o diseñando componetes nuevos de arquitectura cuando se requeiran, revisando el cumplimiento de las pruebas técnicas y de los estándares de calidad y aportando soluciones de compromiso entre las arquitecturas definidas y las restricciones de plazo y presupuesto del proyecto a fin de evitar que estas últimas no acarreen duda técnica en el producto que luego vaya a generar problemas cuando este se encuentre en fase de explotación.
Funciones:
Minimizar el riesgo técnico del proyecto asgurando que este se realiza según las buenas prácticas y recomendaciones de arquitectura
Asegurar la calidad del código desarrollado por los desarrolladores, según los estándares de QA y la realización de pruebas de vulnerabilidad – Hacer de nexo entre el equipo de proyecto y los diferentes equipos de arquitectura
Identificar las necesidades técncicas del proyecto, para en su caso, establecer requerimientos de nuevos componentes que extiendan la arquitectura, así como colaborar en el diseño, desarrollo y pruebas de los mismos, bien sea a cargo del proyecto o a cargo de arquitectura
Colaborar con el equipo de DevOps en la configuración de entornos para el proyecto
Requerimientos
Entornos de desarrollo: Spring Boot, java, Spring Cloud Lenguaje de programación: angular, nginx Infraestructura/BBDD: NOSQL
Otros conocimientos: Kubernetes, Openshift, Docker
Mínimo de 3 años de experiencia en tecnologías y puestos similares
Puedes escribirnos al siguiente email: talent@serquo.com
Arquitecto Senior Software
Buscamos para integrarse en el departamento de Arquitectura de Software de uno de nuestros principales clientes del sector Retail un:
Al menos ocho años de experiencia en Java y el ecosistema de Spring (Data, Boot, Cloud, …) con perfil muy valorable fullstack
Experiencia demostrable con arquitecturas distribuidas, basadas en microservicios, con comunicación de mensajes a través de Kafka y consistencia eventual de datos
Entendimiento de arquitecturas Data Centric basadas en Streaming de datos en tiempo real y capacidad de ingesta de datos en el orden de las decenas o cientos de millones de elementos
Cloud Native Applications y despliegues híbridos y elásticos en la nube (Azure, AWS, GCP)
Perfil Hands-On, autónomo, netamente técnico y con ganas de bucear en el código y programar como parte de su día a día. Gente a la que le guste el reto a nivel tecnológico y no tema enfrentarse a problemas nuevos e investigar
Ganas de incorporarse a un proyecto de largo plazo, core dentro de la organización, con un equipo grande y multi-disciplinar (DevOps, AF, QA, …), desarrollado bajo metodologías Agile, con entregas parciales, iterando sobre la solución existente
Puedes escribirnos al siguiente email: talent@serquo.com
Besides programming, also...